"Welcome to Tararua College"
Enrol on the new UCoL/Tararua College Free and Easy Computing Courses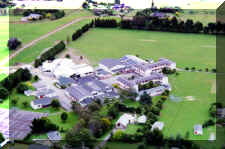 "At Tararua College we aim to meet the needs of all students. We encourage a caring friendly and supportive environment in which students can maximise their learning opportunities.
We think that you will enjoy being a part of our school community. We believe that Tararua College is an ideal size in that it is big enough to offer a wide range of learning opportunities yet small enough for students to be known by staff, and their needs quickly recognised.
A family atmosphere and a safe, secure environment encourage students to perform to their potential.
Whatever their abilities or interests, when students eventually leave school as young adults, we believe that we send them out confident and well prepared for the future.
To help prepare our students for adulthood we value a close relationship with parents and the community. You are welcome to visit the college and look around at any time. If there is anything you wish to know, please do not hesitate to contact the college.
We look forward to creating a successful partnership with you."
Phil McCreery
Principal

Our Mission
Promoting student fulfillment by providing opportunities for academic excellence and the widest possible personal development in a caring learning environment.

College Shield and Motto
Our Motto "Tama Tu Tama Ora", "Those who strive live fully".

This was first suggested by Colonel Arahita Awatere, the Senior District Maori Welfare Officer.
The words form part of a Maori proverb " Tama tu, tama ora; tama noho, tama mate."
The individual words of the proverb are translated thus:

| | |
| --- | --- |
| | Tama..... A young person |
| | Tu ..... Striving, energetic, rising, vigorous |
| | Ora ..... Healthy, alive, living |
| | Noho ..... Sitting, unmoving, stagnant |
| | Mate ..... Sick, dead, not well |

Literally the whole proverb means: A young person who strives becomes a person who lives fully, whereas a young person who is lazy becomes a person who is dead in knowledge.

Our Shield shows two mountains (Tararuas), the human aspiration to reach the summit
Lower left - The Fern Leaf - symbol of New Zealand, the Bush District, and of pioneer endeavour.
Lower right - the fern shoot unfolding - growth and development of our school and its pupils.



- Please leave a record of your visit, your thoughts & wishes -
- sign our Visitors Book or view the current entries -

Contact Information
The Principal

Telephone

(06) 376-8344

FAX

(06) 376-8457

Postal address

PO Box 94, Churchill St, Pahiatua, Tararua 5470

Electronic mail

General Information: tararua.college@xtra.co.nz
Webmaster: bkinzett@tararuacollege.school.nz